Biopower System is the optimal maintenance solution for your workshop

Excellent quality parts washer; set to a temperature of 38°C, it ensures effective cleaning by brushing, spraying or immersion without the use of solvents.
There are 4 integrated wheels for quick installation and ease of movement.
Tank capacity: 100 litres of detergent;

Immersion basin capacity: 30 litres with spillway;

Airtight lid that prevents evaporation.

Absence of solvents creates optimum conditions for maximum hygiene and safety.
Guaranteed cost and consumption control. No need for frequent changes of the detergent bath, thanks to the maintenance activity of microorganisms.
Minimises waste and contributes to environmental protection.
No need to frequently change the bath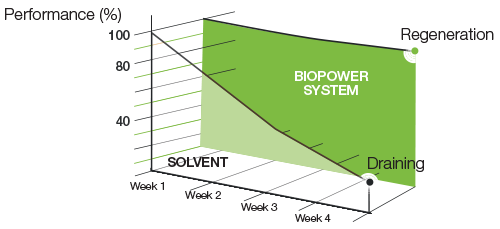 Minimised maintenance and residues